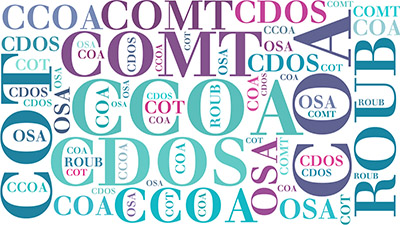 The Essential Credentials for Eye Care Professionals
Our mission is to promote global eye health and prevent blindness through training program accreditation, education and the certification of Allied Ophthalmic Personnel.
Career Connection
JCAHPO is committed to helping people become eye care professionals and to advance in their career. Employment of Medical Technicians in fields such as Ophthalmology is on the list of the 30 fastest growing occupations in the United States and there is a growing need worldwide for Allied Ophthalmic Personnel. The aging population (65 or older) is projected to double by 2030 and the need for Ophthalmic Medical Technicians will continue to increase. There is an estimated need for an additional 3,500 Allied Ophthalmic Personnel in the U.S. and Canada. With such a bright career outlook for Ophthalmic Medical Technicians there has never been a better time to enter the eye care profession. Anyone who is considering a career in eye care should check out Discover Eye Careers.
We Salute Our Troops and Those Who Serve Our Country!
Military personnel in the United States and Canada will receive up to 50% discount on certification application fees. In May, the discount certification application fees are for initial examinations at all core certification levels for military personnel in the following areas: Active Duty, Contract Military, Veterans' Affairs, and Military Veterans.
JCAHPO has always worked with military personnel during active duty who requested special consideration for certification applications and recertification. Individuals who may serve in other foreign services may contact JCAHPO for the fee schedule. We will continue to accept special requests for recertification extensions with no fees for active duty military that are deployed overseas.
For more than ten years, JCAHPO has been recognized by the United States Veterans' Administration and participates in its education and certification veterans' benefits program. Military personnel and veterans can apply for reimbursement of their education, continuing education, and certification expenses by approved certification providers.
U.S. military personnel can access this education and certification information at: Veterans Affairs.

Canadian Armed Forces can access this education and certification information at: Canadian Veterans Affairs.
Certification fees for our Troops and personnel serving our countries are as follows:
Certified Ophthalmic Assistant (COA) – $150
Certified Ophthalmic Technician (COT) – $175
Certified Ophthalmic Medical Technologist (COMT) – $200
Recertification Fees Every Three Years – $125
One-time reinstatement of a revoked certification – fee as listed above.
The Veterans Job Bank is also a resource for veterans who are seeking jobs. Job vacancy listings are flagged with a "Veteran Commitment" tag, indicating high consideration of veterans for the position. Job listings can be searched by Military Occupation Code (MOC), key word and/or ZIP code. Employers can post jobs to be included in the Veterans Job Bank's search results by e-mailing your website's domain name to the National Resource Directory ([email protected]) or posting your vacancy on a job search website that supports employers in this effort. For more information, visit the Veterans Job Bank and click "Instructions for Employer Participation."